Too hot to turn on the oven? Unexpected evening guests?
Last minute bake sale? No worries!!
This is a recipe everyone is sure to love and has been a well-hidden family secret for years! Not only is it easily adaptable to make it super healthy with whole wheat and sugar-free (without toxic splenda), but it's 100% yummy!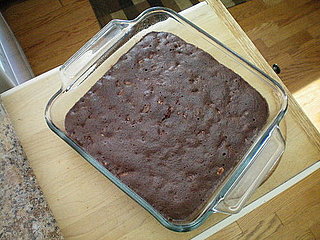 Prep Time: 2 min Cook Time: 6 min
Microwave (this recipe is based on 1100 watts, adjust time accordingly to your appliance)

8"x8" Glass Baking Dish

Medium Mixing Bowl

Spoon/Spatula
1 stick of softened butter (1/2 c.) - may instead be melted in microwave (high: 30 seconds) in a pinch!

2 eggs

2 T. cocoa

1 c. sugar (may substitute 1-1/2 t. pure stevia powder for healthier, but still sweet, sugar-free version)

3/4 c. flour (may substitute whole wheat for healthier version without losing flavor or texture)

Spices: Nutmeg, Cinnamon, Ground Cloves (just a sprinkling of each)
Mix ingredients in order listed

Microwave for 4 min. at 80% power

Microwave an additional 2 min. at 100% power

Check bottom of glass dish for even coloring; if the center dark area is gone, it is ready!

Enjoy! Tastes great topped with your favorite ice cream or drizzled with chocolate sauce!
Get Creative! You can easily mix it up by adding chocolate chips, vanilla chips, peanut butter chips, chopped walnuts, crushed peanuts, crushed candy canes, crushed cookies, etc. Make it your own specialty!